In Memory
Judy Robertson (Brcka)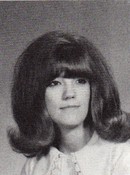 Judy Robertson Brcka, 46, died Wednesday, Feb. 2, 2000.
Services are 4 p.m. Saturday at Elliott-Hamil Funeral Homes Chapel of Memories, 542 Hickory, with the Rev. Ronnie Newton and A.G. Robertson Jr. officiating. Burial in Fort Phantom Cemetery.
Mrs. Brcka was born in Abilene and graduated from Abilene High School. She married Gary Brcka in Abilene and lived in Abilene until moving to Orange City, Fla. She had worked as a receptionist with Pride for 10 years before moving to Florida, and was currently working for the Bundy Corporation in Sanford, Fla.
Survivors include her husband, Gary, of the home; two daughters, Misti Cox of Abilene, Brigette Brcka of Orange City, Fla.; her parents, A.G. and Mable Robertson of Abilene; one brother, A.G. Robertson Jr. of Houston; one sister, Carolyn Ratliff of Duncanville; numerous aunts, uncles, nieces and nephews.
Memorials may be made to the donor's favorite charity.
Visitation is 10-12 a.m. at the funeral home.