In Memory
Linda Guerra (Castro)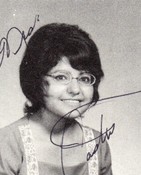 Linda Castro, 42, relative of six Abilene residents, died Sunday, May 5, 1996.
Services were held Tuesday in new Life Baptist Church with the Rev. David Galvan officiating. Burial was in Garland Memorial Park, directed by Williams Funeral Directors.
Mrs. Castro was born in Lockney and worked as a cosmetologist. She was a member of the New Life Baptist Church.
Survivors include her husband, John Castro of Garland; one son –Juan Castro, Jr. of Dallas; two daughters – Marisol Castro and Stephanie Castro, both of Garland; her parents – Manuel and Raquel Guerra of Abilene; and five sisters, Juanita Flores, Melba Hinjosa, Margaret Loya, and Rosita Garcia – all of Abilene, and Terri Smith of Grand Prairie.
Memorials may be sent to the Vitas Hospice or New Life Baptist Church in Garland.
Obituary from Abilene Reporter-News