In Memory
Brenda Lilly (Lathrop)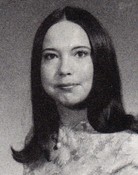 Dateline:
March 9, 2012
Name:
Brenda Kay Lathrop, 59
Died:
Friday, March 9, 2012, in Odessa, Texas

Brenda Kay Lathrop, 59, of Odessa, Texas and formerly of Abilene, died Friday, March 9, 2012, at a medical center in Odessa.

The daughter of Jewel Gertrude (Bryant) and H. P. Lilly, Brenda was born on December 26, 1952 in Abilene, Texas, where she graduated from Abilene High School in the Class of 1971, and on July 27, 1974 married Robert L. Lathrop. Brenda worked for Bealls as an assistant manager for thirteen years. For the past eight years, she had been a resident of Odessa where she was a member of Sherwood Church of Christ.

Our wife, mother, grandmother, sister and aunt had an unbelievable light and love that everyone felt. Her big heart at times was almost too big. She was always there for everyone. When she sang, her beautiful voice could be heard. It was well-known that what she enjoyed more than anything else was spending time with her family. Country western dancing had become her most recent enjoyment.

Brenda is survived by her husband, Robert L. Lathrop of Odessa; son, Eric Jameson Lathrop and Amy Jackson of San Angelo; daughter, Cassandra Kay Terry and husband Skyler of Odessa; and eight grandchildren, Brooklyn, Aaron, Baylie, Lyric, Nevaeh, Javen, Jordan and Arya. Survivors also include four sisters, Flora Yawn and husband Walter, and Dorothy Bullard and husband Bill, all of Clyde, Texas; Olivia Wood of Lawn, Texas; and Frances Copher and husband Charles of Abilene. She was preceded in death by her parents, two brothers, and two sisters.

Funeral services will be 2:00 p.m. Tuesday, March 13, at Woodlawn Church of Christ in Abilene with Mark Wilson officiating. Interment will follow in Elmwood Memorial Park directed by The Hamil Family Funeral Home, 6449 Buffalo Gap Road. The family will receive friends from 6 to 8 p.m. Monday at the funeral home.