In Memory
Melba Holt (Pinkerton)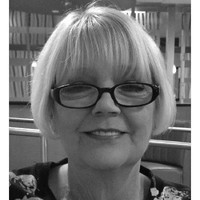 Melba Lois Pinkerton

Abilene, TX

Melba Holt Pinkerton, 64, of Abilene, passed from this life to her heavenly home on Friday, April 06, 2018, after a brave battle with cancer. A private family graveside service will be held 3:00 p.m. Saturday, April 14, 2018 at Elmwood Memorial Park Cemetery.

Melba was born and raised on October 27, 1953, to Melvin and Darlene Holt in Abilene, Texas. She also lived in Odessa, Ormond Beach, Florida and Bryan, Texas before moving back to Abilene in 1988. Melba was blessed with a son, Chance Rule and a daughter, Cassidi Rule Gorniak; and three precious grandchildren, Hannah Rule, Morgan Rule and Talon Gorniak. She loved being "Nana" to her grandkids.

Melba never met a stranger. She loved people and people loved her. Within two minutes of talking with her, you would have a smile on your face, or be laughing out loud. She loved a good book and great music, especially her Beatles! As one of her nephews said ," She was the coolest aunt ever!" She could always find the brighter side of any situation. Always thinking of others, she had a very generous nature. "Nana's Bag O'Crap" was famous at Christmas! She had that knack for finding the most fun and unusual gifts for everyone in her family to enjoy.

Melba married her best friend Bobby Pinkerton and they were the love of each others lives. Bobby gave her the very best of loving care in her final days. She left this world in peace, ready to go be with her Lord and Savior in her real home in Heaven. Her family and friends will miss her greatly.

She is survived by her love and best friend, Bobby Pinkerton; her son, Chance Rule and wife, Tonya; her daughter, Cassidi Gorniak and husband, Josh; two granddaughters, Hannah and Morgan Rule; one grandson, Talon Gorniak; two sisters, Darla Murray and husband, Wendell and Debbie Stone and husband, Darrell; three aunts; numerous nieces, nephews and cousins; and her precious sweet dog and companion, "Cosmo".

Melba was preceded in death by her parents; an infant brother, Melvin Dwayne Holt and an infant daughter, Holly Renee Rule.

In lieu of flowers, the family wishes that memorials be sent to Taylor Jones Humane Society, 2301 North 3rd Street, Abilene, Texas 79603 or to The Mission, P.O. Box 7550, Abilene, Texas 79603.

She just loved her doctors and their staffs. The family wishes to thank Dr. Antao Du, Dr. Stella Amaechi and Dr. Brent Mahoney for their great care and kindness during her illness.

Also a big thank you to Hendrick Medical Center and Hendrick Hospice for all of their help in taking care of our Melba.